Coursera is at it again, offering another excellent online course about games, this time on the topic of video games and learning, presented by Constance Steinkuehler and Kurt Squire of the University of Wisconsin.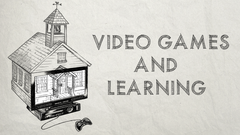 The course promises to cover everything from the culture of games and human cognition to practical applications of games in the classroom. The course begins today and spans 6 weeks, each of which offers new video lectures, suggested readings, and assignments.
So if you haven't already, register now and join me for this exciting new class!