To celebrate Independence Day, Joe and I climbed a mountain. No really. We climbed a mountain.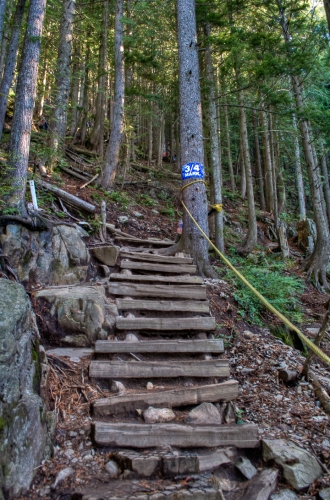 Grouse Grind, commonly referred to as Mother Nature's Stairmaster, is a 2.9km trail up Grouse Mountain. It includes nearly 3,000 steps and an elevation gain of over 850 meters. Not for the faint of heart.
And when I say steps, I don't mean stairs like the ones you'd find in your house. No no. I actually rejoiced at the sight of "normal" stairs along the trail. Most steps were several normal stairs high, created out of rocks and wooden planks anchored into the side of the mountain.
Before heading out on the trail, I knew we were in for quite a hike. But after all, we'd hiked a mountain or two before, so I figured we'd be okay.
I kid you not, I probably spent half my energy reserves laughing (in fear!) at the sheer size of the mountain when we got to the base. We're climbing THAT?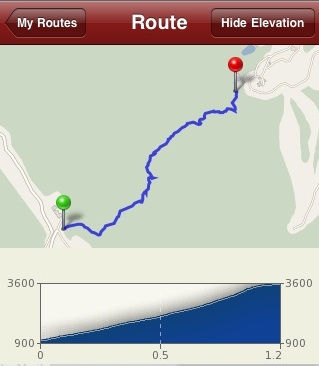 But I knew there was no turning back at this point, so we headed out on the trail. Within minutes, I was out of breath. I tell you, my breath must be in much better shape than I am, because I spent the next hour and fifteen minutes trying to catch it.
Once we finally reached the top (the summit is over 1,100 meters high), the view was breathtaking. We could see all of greater Vancouver and Mount Baker. A bag of trail mix later, we were ready to explore. We spent the next few hours watching lumberjacks, birds of prey, and grizzlies, getting sunburned, and eating tasty mountaintop snacks.
All in all, it was a splendid day. And though I will surely be very sore tomorrow, I would do it again in a heartbeat.