Thanks to everyone for your prompt and constructive feedback on Chip and the art in our game so far. I'm working through the feedback bit by bit, but I thought I'd give you a sneak peek into Chip's makeover.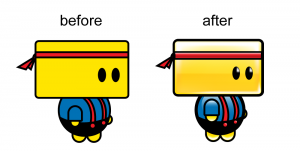 Many of you pointed out that Chip seemed flat and didn't blend in with the environment around him, and we totally agree. We're still working on his proportions and body shape, but here are a couple of updated images.

Updated environment images are still in the works. Keep the feedback coming!