What's inside you, on every surface you touch, in the air you breathe, and an integral part of every living thing around you? Why bacteria, of course, and in my latest game idea Culture Shock, you will have the chance to get up close and personal with the ubiquitous microorganisms.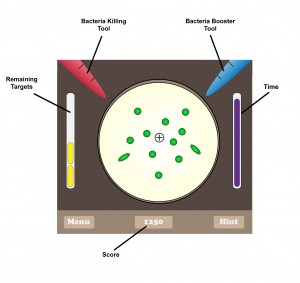 Culture Shock is a casual first person shooter game in which you play as a scientist racing against time to zap mutant bacteria in a petri dish. Similar to a sniper searching for a certain target, you must watch the colony carefully and patiently as the bacteria reproduce, finding and shooting the bacteria that differ from the majority.
At first, mutants are easy to spot, as they display variations through obvious external traits, such as color, size, and shape. However, as their antibiotic resistance increases, mutants become harder to find as they start to blend in with their peers. You must protect your bacterial culture, finding and zapping all the mutants while saving enough good bacteria to ensure the survival of the colony.
Microscopic battles. Macroscopic fun.