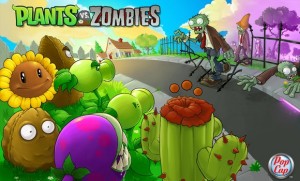 Like vampires, zombies have mystified the masses for ages. But who knew that you could fight off zombies with pea-shooters, mushrooms, and other veggies?
Plants vs. Zombies, released in 2009 by PopCap Games, has been a huge hit for casual and hardcore gamers alike. Even my mom loves it, laughing in delight as the zombies' heads pop off. But why? What contributes to the game's broad appeal?
Here are a few conjectures:
1. Approachable theme
Enhanced by well-polished graphics, the theme of the game is approachable by audiences of various ages and backgrounds. Using veggies as weapons provides a new twist for hardcore gamers and a familiar topic for younger audiences.
2. Simple mechanics
A tower defense-style game of sorts, Plants vs. Zombies doesn't require players to manipulate a variety of buttons to engage in actual combat with the zombies. Instead, players choose strategic placements for their plants with the click of a button, watching the battlefield from above and reinforcing their defenses when necessary.
3. Universal concept
Everyone is familiar with the exchange of money and goods. Even toddlers understand that people must acquire money, then choose how and when to spend it. Preying on this universal concept, Plants vs. Zombies provides a new medium with which to earn and spend currency. Players must earn sun power to plant more veggies in order to defend their house from zombies. And who wouldn't want to do that?
So if you haven't already, you should definitely consider taking on the role of veggie commander, defending your house and brains against the approaching wrath and hunger of the zombie army.