After a 3am courtyard brawl woke us up in the middle of the night, Joe and I arose this morning more than a little out of it but still determined to go through with the Whistler excursion we'd planned. Coffee in hand, we headed out on the 2-hour drive to one of North America's top destinations.
When planning for this day trip, we were completely overwhelmed by the endless menu of outdoor options and activities available within the small resort town. Mountain biking, frisbee golf, river rafting, alpine hiking, bungee jumping, ziplining, kayaking, sky diving, canoeing, ATV tours, geocaching, mountain climbing, horseback riding, wine tasting, and helicopter tours were all possibilities, not to mention spa visits and a myriad of dining options. And these were just the summer activities!
During our short time in Whistler, I think I figured out why the town is thus named. We were whistling quite a lot throughout the day, though for several different reasons.
Reason 1: [Continuous whistling]
"Ah, I'm so happy to be here. What a wonderful place. I'm having so much fun."
Reason 2: [Downward whistle, accompanied by widening eyes]
"That costs HOW much?!"
Reason 3: [Upward whistle, followed by scrunched eyebrows and flared nostrils]
"Sofie, get over here, NOW!"
Reason 4: [Downward whistle, with eyebrows raised]
"Wow, that's frickin' gorgeous."
Reason 5: [Downward whistle, accompanied by fast walking]
"Finally, a bathroom!"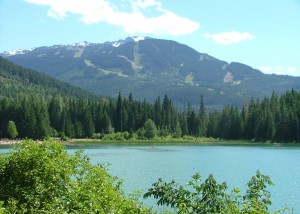 Truly an amazing place that we will be visiting as often as possible.