What did people do before Craigslist? Every few seconds, at the click of a button, you can find several new listings for everything from fish tanks to RVs. In my quest to furnish our rather empty apartment, I've been scrutinizing every listing, trying to picture each item within the hodge podge of our new knick knacks.
It always amazes me how valuable people think their items are and, sometimes, why they purchased said items in the first place. Take, for example, this "Leather Peach Couch":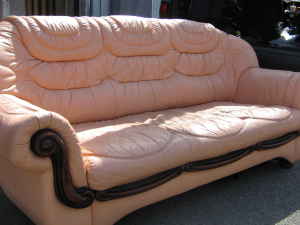 Question 1: Why would anyone make this?
Question 2: Why would anyone buy this?
Question 3: Why would anyone buy this used?
In addition, the listing titles can often be deceiving. Don't be surprised when a click on "Vintage Loveseat – $400" leads to a picture of a saggy wingback chair with a faded floral pattern or "Modern Coffee Table – $125" actually refers to a strange contraption with only a small semblance of a flat surface.
The ads often proceed to explain how much the items originally cost, as if that's an excuse for the exorbitantly high prices they're demanding for the items in their current state.
Perhaps my favorite listing of the day was for a beige "microswaid" couch. Craigslist is also notorious for bad spellers.
So far, my Craigslist hunt has netted me a microwave and several sofa scoutings. Who knows what tomorrow will bring? That's the beauty of Craigslist.